Hairstyles - Short Cut Hairstyles
Short hair is a lot easier to take care of than longer hair. It requires less time to shampoo and condition, less time to blow dry and much less time to curl or flat iron.
Not everyone is rushing out to get a short cut, however. Going short requires a major committment since it will take a very long amount of time for the hair to grow out if for any reason you no longer like the look.
Check out some of these cute short cut hairstyles for ideas on various styles. Try on the style using hairstyle imaging software (click on the photos for more details on this) before getting the cut so you can make sure the cut will look good on you and you are confident of going short.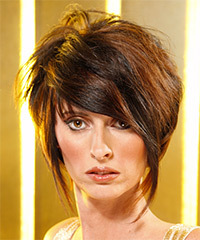 This is a magnificent hairstyle with short to long layers to create volume and body through the crown and top sections. The edges of this look have long wispy pieces to frame the sides of the face and to achieve contrast between the different lengths all over.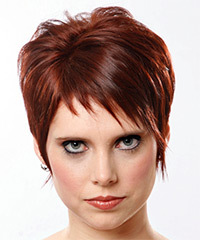 This short wispy 'do has plenty of attitude with razor cut layers to achieve texture and definition. This allows height through the crown and softness to the front of the face with the uneven stylish bangs.